COVID-19 Outreach
Central Vermont Regional Planning Commission is working with our municipalities to provide additional support and information to plan for, respond to, and recover from the COVID-19 pandemic.
---
Vermont Department of Health (VDH) COVID-19 website:  https://www.healthvermont.gov/covid19
VDH COVID-19 daily updates: https://www.healthvermont.gov/sites/default/files/documents/pdf/Covid-19-Daily-Update.pdf
CDC COVID-19 website: https://www.coronavirus.gov/
For information, resources, support, and access to services, call  VT 211 (866-652-4636)  or visit https://covidsupportvt.org/
If you are sick or concerned about your health: Contact your health care provider by phone. Not everybody needs to be tested. Do not call the Health Department. Do not go to the hospital, except in a life-threatening situation.  CVMC COVID-19 Call Center is open 7 days a week 8am – 5pm @ 802-371-5310
Vermont Department of Health recommends that people consider getting tested if they've gathered recently, especially with people outside of their normal "pods" or social circles (see here for pop up testing locations).
Vaccines:  To register for a COVID-19 vaccine: call 855-722-7878 (Monday-Friday, 8:15 a.m. – 5:30 p.m./Saturday and Sunday, 10:00 a.m. – 3:00 p.m.), or visit healthvermont.gov/MyVaccine.  Learn more about what information you will need to make the appointment on healthvermont.gov/MyVaccine. You'll also find links to Frequently Asked Questions and a video about the online process.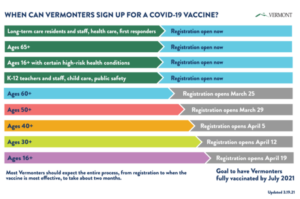 Vermont Forward Roadmap — Changes in COVID Guidance Going Forward
The Governor has recently presented a "Vermont Forward" Roadmap. Guidance and restrictions on businesses, travel, and gatherings will change in the next three months based on what percentage of the population is vaccinated. 
Read More >>
---
---
---
---
---